Skateboarding is not just a sport; it's a lifestyle. And at the heart of every skateboard is the deck – the foundation that holds all the components together. Finding the perfect skateboard deck that suits your riding style and preferences can be daunting. With so many brands and models available, it's essential to understand the different options out there comprehensively.
In this guide, we will dive deep into skateboard decks, exploring the top brands and models, the materials used, the shapes available, and how they all impact the performance and riding experience. So whether you're a seasoned skater or just starting, this guide will help you decide and find the best skateboard deck.
Review of 9 Best Skateboard Decks
The appropriate deck can make a big difference in your experience in the exciting world of skateboarding, where innovation meets passion. To select the Top 10 Skateboard Decks, we set out to do just that; the result is this in-depth review.
1. Moose Blank Skate Deck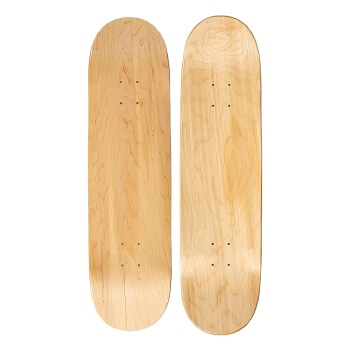 The Moose Blank Skate Deck will catch your eye while looking for a skateboard deck you can customize. You will discover something special about these decks as they provide more than just the raw wood finish.
The simplicity of these decks is an additional benefit. You save money because they don't include elaborate visuals or details. Skateboarders like you had the freedom to express their creativity. There won't be additional costs for the manufacturer's branding or design components.
Like other brands, Moose utilizes seven layers of high-quality Canadian maple wood. However, what truly sets it apart is its industrial-grade construction. They use a powerful adhesive that ensures all the layers remain firmly bonded. This gives your skateboard the right balance of flexibility and protection against damage from hard impacts.
This skateboard deck also boasts a modern design with a medium concave shape and steep kicks. It delivers a responsive feel, allowing you to try various tricks. It's both stiff and sturdy, providing a reliable ride platform.
Conversely, you might encounter a minor issue when attempting to airbrush this deck after your purchase. While sanding off some clear coats, you may notice a few dents. Fortunately, these can be easily covered up with fillers. Overall, the Moose Blank Skate Deck offers quality, simplicity, and the freedom to customize your ride according to your preferences.
Pros
Various deck color options for better skateboard customization
An affordable skateboard deck
Durable Canadian maple deck with industrial-grade construction
Modern skateboard deck with a medium concave shape and steep kicks
Cons
Some dents were found after sanding
2. Bamboo Graphic Skateboard Deck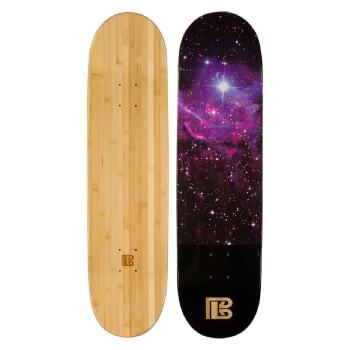 This deck strikes a perfect balance between pop and board strength. It's not entirely bamboo; it comes with an extra layer of maple. However, this unique combination not only ensures quality but also promotes sustainability.
Many skateboarders claim that this deck has a significant advantage in durability compared to maple. It can handle the pressure from jumps and stunts without breaking and maintains its firmness when landing tricks. These benefits are thanks to the flexibility of the bamboo material used in this deck.
What's great about this skateboard deck is its versatility. Its deep, concave shape makes it suitable for transition skating and bowls. Even better, it caters to skaters of all skill levels, from pros to beginners. Everyone can enjoy what this deck has to offer.
While the brand doesn't provide specific weight details for this deck, various Reddit reviews mention how light it feels. In my own experience, it's noticeably lighter than many of my other skateboards. So, in addition to being flexible and durable, this deck is also lightweight.
The only drawback we found is it lacks sharpness, and the manufacturer could have put more effort into them. However, it's important to note that this issue doesn't affect the board's performance.
Pros
A strong bamboo and maple deck that offers ample pop
A flexible bamboo deck strong enough to perform tricks and jumps
It comes with a deep concave build that is versatile for pro and beginner skaters
Cons
The sharpness of the deck is not satisfying.
3. SANTA CRUZ Skateboard Deck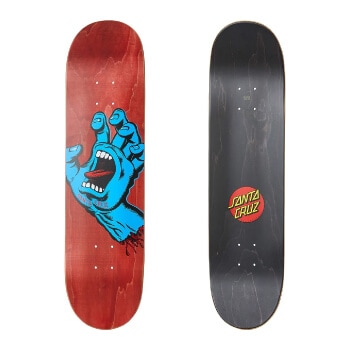 Similar to the previous deck, this model features a handy popsicle shape. However, what really stands out for many skateboarders is its wheelbase. A 14.25″ wheelbase perfectly balances long wheelbases for pools and shorter ones for flips.
Another aspect of balance with this skate deck is its width. Santa Cruz offers an 8.25″ deck size, designed to be versatile. According to some guides, technical skateboard tricks require boards between 7.75″ to 8.25″, while 8.25″ to 9.0″ boards are ideal for handrails and large bowls. This model is designed to meet a range of skating needs.
It's built with seven layers of sturdy maple wood, making it perfect for skateboarding. The variety of background stains is even more reassuring, indicating the brand uses non-synthetic wood for their boards.
Another economical aspect that several skateboarders appreciate about this deck is the inclusion of grip tapes. Santa Cruz offers this accessory for free, making it a cost-effective choice. Given the brand's reputation for quality, the free grip tape adds a layer of reliability to the deck.
Pros
The deck boasts a timeless graphic accentuated by a matte finish on natural wood.
Performance-Driven Design
Well-balanced concave, ensuring a smooth and responsive ride.
Hassle-Free Assembly
Cons
A few users reported delamination issues after minimal use, raising questions about the deck's longevity.
Instances of the deck arriving with chips and damages might indicate lapses in quality checks or shipping mishaps.
4. Baker Skateboard Deck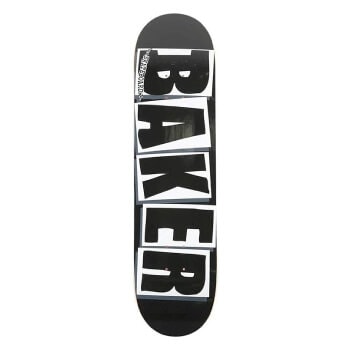 This Baker deck comes in an 8.25″ size with a mellow concave design, making it easier for users to position their feet. It's versatile and suitable for performing flip tricks, vert skating, and other skateboarding skills.
What sets this deck apart from others is its deep wheel wells. These wells help reduce wheel bites and damage to the bottom side of the board. In essence, this skateboard deck supports various skating tricks and offers protection.
It's made from 7-ply maple wood, known for its strength and value. So, it's a sturdy and reasonably priced board. The durability of this deck also makes it suitable for heavier riders. In one review, a buyer mentioned how well this Baker board worked for them as a bigger rider. If you're having trouble finding a skateboard that accommodates above-average users, you can confidently choose this deck.
Pros
The deck is made of 7-ply maple wood, known for its durability and strength.
Features the brand's iconic white and red logo, making it visually appealing.
Designed with a mellow concave and wheel well depth, it offers a good balance for skateboarding.
It is suitable for all ages and is described as lightweight and lively, enhancing the skateboarding experience.
Cons
The price of $70 is steep for a skateboard deck.
5. ICE DRAGON Canadian Maple Skateboard Deck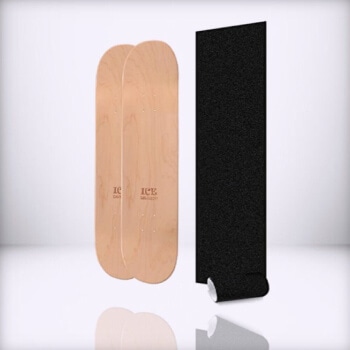 While it might not be immediately obvious from its appearance, what's reassuring is that the brand openly discloses that this board can handle a maximum weight of 280 lbs. This weight capacity is sufficient for heavier riders or those who frequently perform tricks.
The deck's shape also contributes to its load-bearing ability. Like the previous models, the Ice Dragon features a popsicle cut, but many skateboarders note that this model has some extra pop. This is likely due to the deck's medium concave finish, making it well-suited for skate parks, rails, and street skating.
One feature of the Ice Dragon is that it's one of the few skateboard brands offering free grip tape with their skateboard decks. While grip tape is readily available in most skate stores, including it in the package adds significant convenience. You won't need to spend extra time searching for and selecting a grip tape that suits the board.
Furthermore, the Ice Dragon model comes at a reasonable price. Considering it's a skateboard deck with free grip tape, it's a cost-effective choice. While it may not be the cheapest option on our list, it certainly offers good value for its price. Unfortunately, a stubborn skateboard sticker on the back of this deck was hard to remove.
Pros
It has a maximum weight capacity of 280lbs
Popsicle deck with medium concave shape for street, park, and rails
It comes with a free grip tape
Cost-efficient skateboard deck choice
Cons
There was a hard-to-remove sticker on the bottom side
6. Cal 7 Blank Skate Deck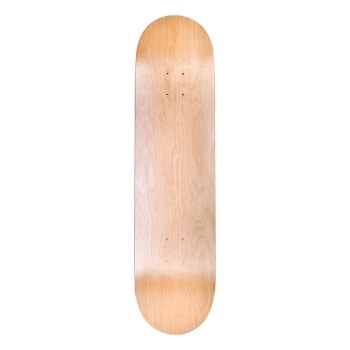 Another customizable gem on our list is the Cal 7 Blank Skate Deck. Its plain wooden finish allows skateboard enthusiasts to design their boards. You don't have to worry about skating on a bare wood-colored deck, as this model is available in four additional hues: blue, black, green, and red. This flexibility allows the deck to match your preferred color scheme.
Beyond its customizability, this deck also holds designs well. I've found reviews stating that it effectively secures paint on the surface. While we can't vouch for other mediums, this affirmation makes choosing blank decks like this one brand-worthy.
Taking a look at the deck's shape, it boasts the popular medium concave form. The brand claims this model best suits skate parks and street skating. Moreover, numerous skateboarders agree it caters to riders of all skill levels.
However, it's worth noting that this deck offers less pop than other decks we've reviewed. Nonetheless, it still suits my style of riding and delivers solid value.
Pros
It comes in various color options: blue, black, green, and red
Holds paints and designs securely on the surface
Medium concave deck shape suited for parks, streets, and riders of any level
Arrived earlier than expected
Cons
It has lesser pop compared to some of the top-rated skateboard deck brands
7. Real Skateboards Deck Doves Renewal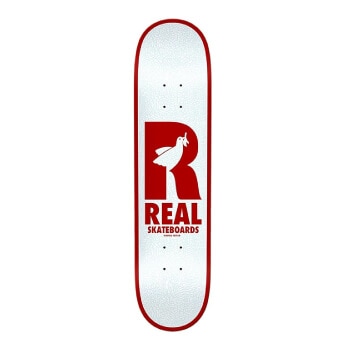 With its fresh green and cream finish, the Real Skateboards Deck Doves Renewal stands out as one of the best-looking boards. Real also ensures durability with its quality construction; even better, this deck is affordable.
As a skateboarder, I've realized it's not just about the deck's shape or form. Sometimes, it's the brand's choice of colors, as is the case with this deck. It has a light and refreshing appearance that appeals to the eye.
This model features a 7-layer maple body, similar to the previous skateboard decks we've reviewed. However, what sets it apart is that Real uses recycled wood, emphasizing its commitment to sustainability.
In addition to its sturdiness, the Real deck is remarkably lightweight, weighing in at just 1kg. It's actually the lightest deck on our list. Despite its extra length, extending to 32.25″, it remains manageable. This means that even average skateboarders have no difficulties riding with this deck.
With a wheelbase of 14.38″ and a deck width of 8.5″, it offers a unique level of balance. Many skateboarders can vouch for this, as these measurements provide ample space and stability on the skateboard, making it safer.
Pros
The deck size is 8.06″ width x 31.8″ length, ideal for a wide range of skaters, balancing stability and maneuverability.
The unique "Doves Renewal" graphic design can appeal to those looking for a distinct and artistic skateboard deck.
It comes with Jessup Black Griptape, ensuring buyers don't have to purchase grip tape separately.
Simplifies the truck assembly process, making it user-friendly, especially for those new to assembling skateboards.
Cons
While the product comes with Jessup Black Griptape, it's not pre-applied. This might be a challenge for those unfamiliar with applying grip tape.
8. LOSENKA Maple Skateboard Deck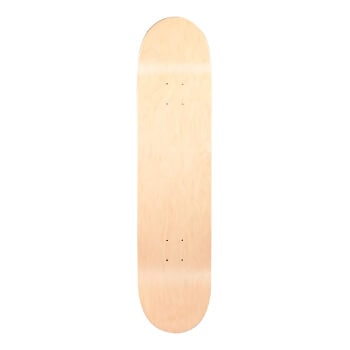 Its simplicity sets this skate deck apart; it has no graphic design. While some may find it too plain, the natural wood finish is appealing.
Like many other skateboards, the Losenka also uses maple wood. However, what makes it unique is that it uses Russian-grade maple. Russian maple is known for its dense, fibrous composition, giving the deck a solid and durable appearance. Not only that, but this type of wood also offers high elasticity, making it less prone to breaking.
In terms of versatility, this skateboard deck doesn't disappoint. It features an asymmetrical tail and nose, providing better control over the board. Its medium concave shape makes this skateboard well-suited for park and street skateboarding. This is another advantage of its unique maple structure.
Skateboards should be lightweight, especially for beginners. Surprisingly, despite its dense maple body, I'm impressed with how light this skateboard deck is. It weighs just 1.2kg and doesn't feel burdensome during use.
Pros
Natural wood color that gives the board a clean finish
Made with Russian maple wood, it is a sturdy and elastic deck
Versatile skate deck with symmetrical ends for better control
A medium concave shape that fits parks and streets well
Cons
Challenging grip tape installation
9. Anti-Hero Classic Eagle Skateboard Deck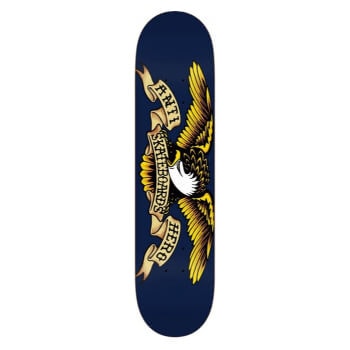 Apart from its striking printed design, the deck's shape makes it stand out. Anti-Hero offers its renowned popsicle cut, designed to be versatile for skating in various places. Whether you're hitting the streets or the skate parks, this deck is suitable, no matter your skill level.
Another consistent feature of this deck is its form. It comes with the classic medium concavity, which benefits the rider in several ways. First, it enhances your footing on the board's surface. Second, it enables smoother execution of tricks and flips.
Like many other skateboard deck models, this one boasts a 7-ply maple construction. Maple's reputation as a top-notch skateboard material adds to the deck's reliability. This, in turn, contributes to more seamless trick execution.
In terms of economic value, this skateboard deck is more than decent. It's not overly cheap or excessively expensive. At the same time, not everyone may be overly enthusiastic about such additions; including this layer for free saves both time and money.
Pros
Famous popsicle cut suited for almost any skating location and skill level
Medium concave deck for better footing and tricks execution
7-ply maple construction for added reliability when skating and performing tricks
It comes with a free Jessup grip tape
Cons
Inconsistent Quality.
Price Point is on the higher side compared to other decks in the market.
The Best Skateboard Deck Brands
Now that we've covered the basics of skateboard deck materials and shapes let's dive into the top brands known for their quality, performance, and reputation in the skateboarding community.
Santa Cruz
Santa Cruz is one of the industry's oldest and most respected skateboard brands. They have produced high-quality skateboards since the sport's early days and continue innovating with their deck designs. One of their standout offerings is the VX Series, which features two layers of patented Quad X Technology in addition to the traditional maple construction. This technology provides enhanced durability, shape retention, and responsiveness, making Santa Cruz decks a top choice for skaters looking for long-lasting performance.
Baker
Baker is a brand that is synonymous with street skating. Their decks are known for their flat stepping surface and mellow concave shape, which provide optimal control and stability for technical tricks. Whether you're hitting the streets or the skatepark, Baker decks are designed to withstand the demands of aggressive riding and deliver reliable performance.
Antihero
Antihero is a brand that embodies the rebellious spirit of skateboarding. Their decks are designed for carving and technical skating, with a concave shape that enhances maneuverability. What sets Antihero apart is their commitment to quality construction. Their decks are built to withstand the toughest rides and provide a solid platform for skaters to push their limits.
Real
Real Skateboard is a brand that prides itself on sustainability and environmental responsibility. Their decks feature a unique combination of new maple and recycled wood, making them affordable and eco-friendly. Real decks are known for their durability and performance, making them an excellent choice for riders looking for a lasting deck.
These are just a few of the top skateboard deck brands on the market, and each offers its unique features and advantages. Consider your riding style, preferences, and budget when choosing the brand that suits you best.
Buying Guide: How to Choose the Right Skateboard Deck
Choosing the right skateboard deck is a personal decision that depends on your riding style, preferences, and skill level. Here are some factors to consider when making your selection:
Size
Skateboard decks come in various sizes, typically measured in width. The width of the deck should match your shoe size and riding style. A wider deck provides more stability, while a narrower deck allows quicker turns and flips. Consider your shoe size and riding preferences when selecting the deck width that suits you best.
Construction
Consider the deck's construction, including the number of plys and the type of wood used. Maple decks with 7 to 9 plys are the industry standard and offer a balance of strength and flexibility. Materials like bamboo and carbon fiber can provide different performance characteristics, so consider their advantages and how they align with your riding style.
Shape
The shape of the deck plays a significant role in how it performs. Consider the specific shape that suits your riding style, whether a standard popsicle shape for technical tricks or a cruiser shape for cruising and transportation. Experimenting with different shapes can help you find the one that feels most comfortable and enhances your riding experience.
Graphics
While not directly impacting performance, the graphics on the deck can be an important factor for many skaters. Look for a deck with graphics that resonate with your personal style and aesthetic preferences. Many brands offer a wide range of graphic options, so you can find one that suits your taste.
Budget
Consider your budget when selecting a skateboard deck. While high-end decks may offer advanced features and performance benefits, they can also come at a higher price point. Determine your budget and look for decks that offer the best value for your money, considering the quality, durability, and performance you desire.
Understanding Skateboard Deck Materials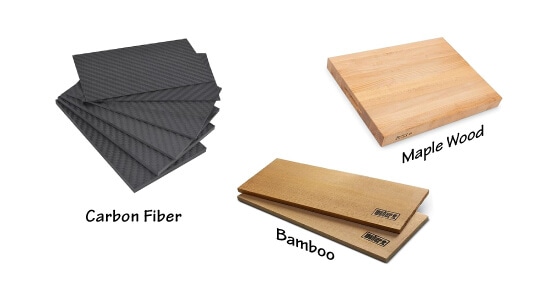 Skateboard decks can be made from various materials, offering unique characteristics and performance benefits. The most common material used for skateboard decks is maple wood. Maple is known for its strength and durability, making it a popular choice among skaters. However, there are also alternative materials like bamboo and carbon fiber that offer their advantages.
Maple Wood: Maple wood is the industry standard for skateboard decks. It is strong, durable, and provides a solid pop. Most skateboard decks are made from 7 to 9 layers of maple wood, glued together, and pressed into shape. Maple decks are known for their reliable performance and longevity.
Bamboo: Bamboo is a more sustainable and eco-friendly alternative to maple. It is lighter and more flexible, providing a different feel and response while riding. Bamboo decks are often praised for their pop and responsiveness, making them popular among skaters who prioritize a more eco-friendly option.
Carbon Fiber: Carbon fiber is a lightweight and incredibly strong material with unmatched durability and stiffness. Carbon fiber decks are known for their high-performance capabilities, providing excellent pop and responsiveness. They are often used by professional skaters and riders who demand the utmost performance from their skateboard decks.
Each material has unique characteristics, and the choice ultimately comes down to personal preference and riding style. Maple decks are reliable and versatile, while bamboo and carbon fiber decks offer alternative performance benefits for those seeking a different riding experience.
Exploring Different Skateboard Deck Shapes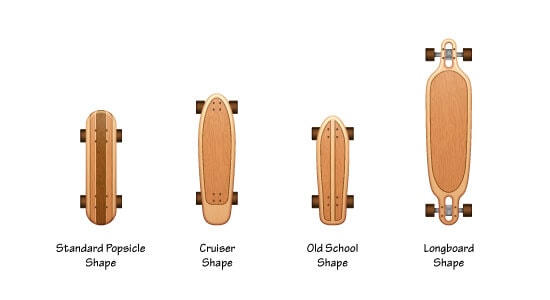 Skateboard decks come in various shapes, each designed for different riding styles and purposes. Understanding the shapes can help you find the deck that suits your preferred riding style and tricks.
Standard Popsicle Shape: The standard popsicle shape is the most common and versatile deck shape. It features a symmetrical shape with a slightly curved nose and tail, allowing for easy maneuverability and the ability to perform various tricks. This shape is ideal for street skating and technical tricks.
Cruiser Shape: Cruiser decks are broader and longer than standard popsicle shapes, providing a more stable and comfortable ride. They are designed for cruising and transportation, making them popular for riders who prioritize smooth rides and long-distance skating.
Old School Shape: Old school decks have a broader, more squared-off shape than standard popsicle shapes. They often have a single kicktail or no kicktails at all. Old-school shapes are reminiscent of the early days of skateboarding and are popular among riders who prefer a more retro look and feel.
Longboard Shape: Longboard decks are much longer and broader than standard skateboard decks. They are designed for cruising, downhill riding, and carving. Longboard decks offer more stability and control, making them ideal for riders with a more relaxed and fluid riding experience.
Choosing the right deck shape depends on your preferred riding style and the tricks you want to perform. A standard popsicle shape is the way to go if you're into technical street skating. A cruiser or longboard shape might be better if you're more into cruising and transportation. Consider your riding style and preferences when selecting the shape that suits you best.
Conclusion
Choosing the best skateboard deck is a personal decision that depends on your riding style, preferences, and budget. By understanding the different materials, shapes, and brands available, you can make an informed decision and find the perfect deck for your skateboarding needs. Whether you're an experienced skater or just starting, finding the right skateboard deck can enhance your riding experience and help you progress in the sport. So take your time, research, and prepare to shred on the best skateboard deck that suits you perfectly.
Remember, skateboarding is all about having fun and expressing yourself, so choose a deck that reflects your style and get ready to enjoy the ride!