According to figures from the National Safety Council, the excitement of skating is unfortunately associated with a significant number of injuries each year in the United States alone – a quantity that needs attention.
According to statistics, about 200,000 skateboarders are hurt each year, and a stunning 50% of those injuries happen to people between the ages of 14 and 24. The boys in our community are more frequently the victims of scraped knees, twisted wrists, and unlucky events because 89% of skateboard-related injuries occur in males. But let's not overlook our female counterparts, who account for 11% of these injuries. 
You should check our skateboarding safety guide, where we share many tips to minimize the risks. But, this article looks into a specific segment, skateboard pads, a crucial safety element often overlooked in the search for tricks and speed.
7 Best Skateboard Pads
It's time to discuss the safety issue and underline the significance of all skateboarders, male or female, taking the appropriate precautions.
1. Triple Eight Skateboarding Knee Pads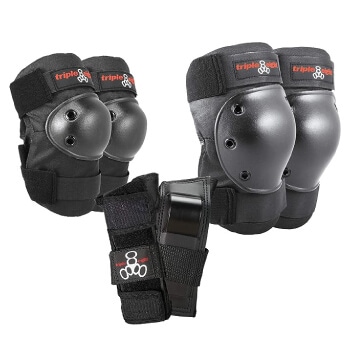 The Triple Eight Skateboarding Knee Pad Set boasts captivating colors and a stylish design that sidesteps the "dorky" look often associated with protective gear. These cushiony knee pads offer impressive comfort and extra safeguards against falls, making them a must-have for skaters. This set's versatility extends to protecting knees, elbows, and wrists from multiple tumbles.
However, sizing concerns arise. Wrist guards tend to be larger, while knee pads run small. The sizing confusion stems from using palm size as the sole reference, which only sometimes correlates with the right fit for other protective elements.
Despite these hitches, the Triple Eight Knee Pad Set remains praiseworthy. Easy to wear and appreciated for their role in boosting learning-to-skate confidence, they stand out for both comfort and aesthetics. The vibrant colors and design contribute to its overall appeal.
Pros
Users find the pads comfortable and effective in protecting during falls.
Many users appreciate the visually pleasing design and color options available.
The pads are simple and quick to put on and remove.
Cons
The sizing for the pads, particularly the knee pads, can be confusing and inconsistent.
The straps on the knee pads might be too short, causing discomfort or difficulty securing them.
People with larger limbs or muscular builds might struggle to find a comfortable fit with these pads.
The Triple Eight Skateboarding Knee Pad is a terrific option for novices searching for a pair of full skateboarding and knee pads that are both comfortable and fashionable. Users should be mindful of the sizing concerns, as it may be necessary to test various sizes for the perfect fit.
2. JBM 3-in-1 Protective Gear Set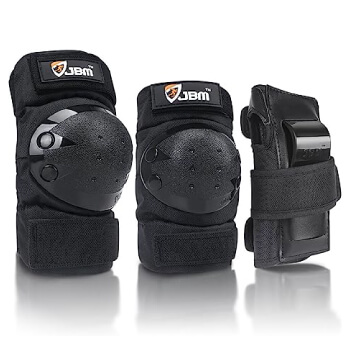 The JBM 3-in-1 Protective Gear Set is a fantastic option for roller skating and skateboarding newcomers. The vivid blue color is attention-grabbing, while the pads' durability and protection have impressed us. We've taken a few tumbles, yet the pads absorbed the impact, keeping me safe. Notably, the wrist guards have been particularly effective.
With adjustable straps and sizing choices, finding a comfortable fit is a breeze. The set is versatile and suitable for rollerblading, skateboarding, and even Airsoft. Easy to slip on and off, these pads are a convenient choice for regular use.
Though some size inconsistencies exist and the wrist guard's Velcro straps might wear over time, the overall quality and protection make this set a worthwhile investment.
Pros
The gear provides excellent protection during falls and high-impact activities.
The adjustable straps and sizing options allow for a snug and secure fit.
Suitable for various activities, such as rollerblading, skateboarding, and Airsoft events.
Cons
Some users may need help finding the perfect fit.
The wrist guard Velcro straps may wear out over time.
There have been some reports of wristguards breaking after falls.
For anyone looking for affordable, cozy, and effective protection for their skate adventures or other hobbies, we recommend the JBM 3-in-1 Protective Gear Set. 
3. Gonex Skateboard Gear Set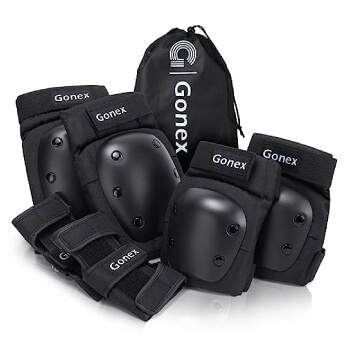 The Gonex Skateboard Gear Set caters to electric unicycling, roller, and ice skating. This affordable package includes wrist guards, knee pads, and elbow pads, ideal for beginners.
Crafted with comfortable materials and adjustable straps, it fits well for diverse body types. While some users may find the pads bulky, adequate coverage boosts confidence in trying new activities.
Despite potential sizing issues and minor comfort concerns, the set offers valuable protection for vulnerable areas. A versatile choice for entry-level enthusiasts, it ensures safety without breaking the bank.
Pros
This set offers good value for those just starting or looking for budget-friendly protection.
It can be used for various sports, including roller skating, ice skating, and EUC riding.
The padding is comfortable and does not cut into the skin.
Cons
Some users have found the pads too bulky, which may affect comfort and mobility.
The sizing might only be accurate for some, especially those with larger or smaller body types.
The set only offers a few colors for users who want a more personalized look.
Finally, this set of protective equipment is reasonably priced and provides entry-level users with a respectable level of comfort and protection. It is a beautiful alternative for people just starting or searching for affordable protection because it is adaptable and ideal for various sports. 
4. 187 Killer Pads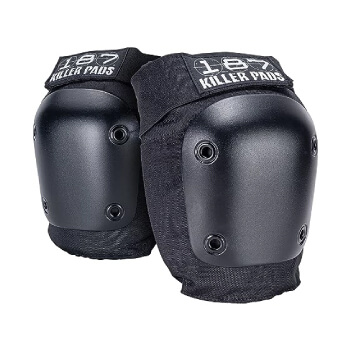 The 187 Killer Pads Six Pack Pad Set offers durable protection for various activities like skateboarding, snowboarding, and roller derby. Crafted from top-notch materials, these pads promise longevity and injury prevention.
With size options catering to diverse body types, the set ensures a snug and secure fit. While knee and elbow pads might feel slightly tight initially, they stay put during high-speed falls, guaranteeing stability. Although some users find the knee pads bulky, the trade-off between comfort and impact absorption is evident.
Overall, the 187 Killer Pads set balances protection and wearability, warranting consideration for safety-conscious enthusiasts.
Pros
The pads are durable, ensuring their longevity and effectiveness.
The knee pads, wrist guards, and elbow pads provide a snug fit for users.
The pads come in different sizes, catering to various body types.
Cons
Some users may find the knee pads bulky, affecting comfort and mobility.
Users need time to break in the pads for optimal comfort.
For individuals looking for dependable, comfortable, and long-lasting safeguards, the 187 Killer Pads Six Pack Pad Set is highly recommended. 
5. Pro-Tec Street Knee Pads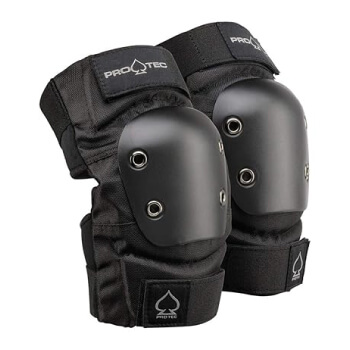 Experience superior riding comfort with the PROTEC Original Street Knee Pad Set. The pads are crafted from durable fabrics, featuring a stretch nylon top strap and full coverage caps, ensuring a cool, dry, and secure ride. The innovative locked-in EVA cup foam and an ergonomic design provide an optimal fit and maximum protection.
Adjustability is effortless with easily adjustable nylon straps and durable Velcro attachments, granting a snug fit. The solid webbed lower strap eliminates worries of binding or pinching. Perforated neoprene promotes ventilation for a consistently excellent and dry experience. Ballistic nylon delivers remarkable resilience, resisting tears and shielding against skids and scrapes.
Pros
The pads' strength assures both their effectiveness and durability.
The pads are available in various sizes to fit different body types.
Cons
Although it may initially seem excessively uncomfortable, the knee and elbow protectors assure stability.
Users must give the pads time to get used to them for maximum comfort.
The PROTEC Original Street Knee Pad Set merges thoughtful design and advanced materials for comfort, customization, and durability. Ideal for riders of all levels, these knee pads prioritize your protection and ease.
6. SKATEWIZ Skateboard Protective Gear Set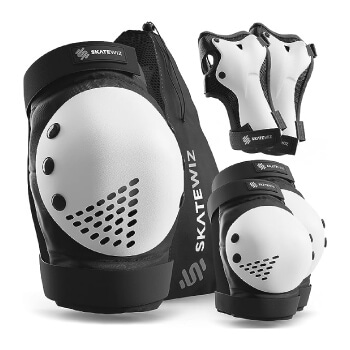 The SKATEWIZ Skate Pads and Helmet Set is an attractive option for novice and expert riders. The set transcends conventional protective gear by effortlessly fusing style and substance.
The aerodynamic shape of the pads provides an ideal fit without limiting movement, putting craftsmanship front and center. Straps that can be adjusted provide a customized experience and permit fluid movements without frequent modifications. However, functionality is intact because these pads are made to survive rough interactions with asphalt and have a durable and trustworthy exterior.
The SKATEWIZ system is unique in its comprehensive approach to safety. The set, including elbow, knee, and wrist protectors, is a defense against the unpredictability of skateboarding. The integrated helmet provides unwavering protection for the head by combining comfort and toughness.
Pros
SKATEWIZ offers a complete set of protective gear, including wrist guards, knee pads, and elbow pads, ensuring thorough protection for young skaters.
Crafted from super tough high-density 600D Oxford fabric, these pads are built to withstand the rigors of skateboarding and provide long-lasting protection.
SKATEWIZ skate pads meet CPSC, CE, and CP65 safety standards, providing impressive impact absorption and ensuring the use of safe materials.
Cons
This set is designed for kids, which may not be suitable for teenagers or adults needing larger sizes.
The SKATEWIZ set goes beyond only providing physical safety. As confidence grows, it motivates skaters to discover and develop their talents. This exceptional combination is defined as an investment in safety and trust. 
7. Retrospec Knee Pads, Elbow Pads & Wrist Guards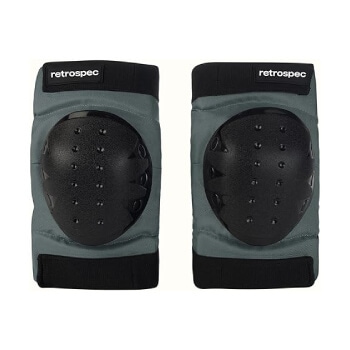 The Retrospec Elbow and Wrist Guards shine as a beacon of innovation and usability in the exciting world of action sports, where safety is paramount. These guardians, firmly committed to safety, welcome both male and female adventurers. Their biomechanical shapes corresponded perfectly and were crafted for an immaculate fit and unmatched comfort. Adjustable straps provide a customized experience and release devotees from the restrictions of ill-fitting equipment.
As rigid materials are used to build guards that can easily traverse various terrains, durability takes center stage. These guards provide an unchanging barrier against unexpected falls on everything from metropolitan streets to skate parks. They are durable against impacts and abrasions.
The guards from Retrospec are remarkably versatile. They are the ideal partners for any activity, including skateboarding, rollerblading, and cycling. Each experience is entirely protected by wrist and elbow protectors working together to cover key weak spots.
The Retrospec guards foster empowerment in addition to providing physical security. Wearing this equipment gives you the confidence to push boundaries and provide security. They provide riders the confidence to embrace innovation, master new maneuvers, and hone abilities with the knowledge that there is always a safety net behind them.
Pros
These knee pads, elbow pads, and wrist guards offer outstanding protection for skaters, rollerbladers, BMX riders, and scooter enthusiasts, reducing the risk of injuries.
The pads are designed with comfort, featuring adjustable straps and cushioning for a snug and secure fit, ensuring users can focus on their activities without distractions.
These protective gear pieces are easy to clean and maintain, ensuring they stay hygienic and odor-free even after rigorous use.
Wearing these pads can boost the confidence of beginners and enthusiasts, allowing them to push their limits and try new tricks without the fear of injuries.
Cons
Some users have reported difficulty finding the right size, which may result in discomfort during use.
The range of available colors may only cater to some preferences, limiting the style choices for users.
For those who relish the thrill of action sports, these guards are more than just equipment; they symbolize empowerment. So, whether you're a casual enthusiast or a dedicated daredevil, consider the Retrospec guards an essential companion on your journey to conquer the outdoors confidently. 
Your Ultimate Buying Guide to Choosing the Best Skateboard Pads
Remember that safety should always come first as you set out on your skating tour. Using the proper skateboard pads allows you to experience the thrill of skating while limiting dangers. Consider our buying guide when you select pads that provide excellent protection and improve your skating experience overall.
1. Develop your protection with different pad types
Knee pads, elbow pads, and wrist guards are the three basic categories of skateboard protective gear. Think about your skating technique and your body's weakest points. Prioritizing knee and elbow protection is wise if you are a vertical skater who enjoys hitting half-pipes. Wrist protectors are essential for street skaters who focus on tricks and stunts because of the risk of falls onto outstretched hands.
2. Comfort and durability in materials
The material can considerably impact the comfort and durability of your skateboard pads. Find pads with sturdy polymers, impact-absorbing foams, and breathable materials. With the help of these materials, your pads can resist the demands of skating while keeping you comfortable over lengthy sessions.
3. Choose the right size and fitting
A pad that fits properly provides the best defense. To assist you in selecting the ideal fit depending on your dimensions, most manufacturers offer sizing charts. Remember that your pads should fit tightly without being uncomfortable or restricting movement. Test them to ensure they remain there even when you move around.
4. Secure your safety with adjustable straps
Adjustable straps are a game-changer when it comes to skateboard pads. Look for pads with secure straps that keep the pads in place without digging into your skin. These straps allow you to customize the fit according to your comfort level and the intensity of your skating session.
How to Properly Wear and Care for Your Skateboard Pads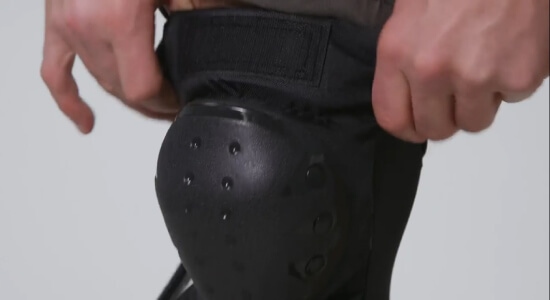 Skateboard pads are more than just accessories; they're your ultimate protection on wheels. Whether you're a beginner or a seasoned skater, knowing how to properly wear and care for your pads can significantly extend their lifespan while ensuring optimal safety. This guide will explore the essential tips for adjusting, cleaning, and storing your skateboard pads.
Adjusting your pads for the perfect fit
Achieving the right fit is paramount to ensure your pads effectively shield you from falls. Start by fastening the straps snugly but not too tight. The aim is to keep the pads securely in place without compromising comfort or restricting movement. Adjust each strap individually, ensuring they're evenly tightened to prevent gaps or discomfort.
Cleaning your pads
Regular cleaning keeps your pads looking good and maintains their performance. Follow these 03 steps:
Remove pads from gear: Remove pads from your gear, ensuring they're detached before cleaning.
Spot cleaning: Use a damp cloth or sponge to gently wipe away dirt, sweat, or grime from the surface. Avoid using harsh chemicals that could damage the padding or fabrics.
Hand wash: Use mild detergent and water if your pads are dirty. Gently scrub the surface, rinse thoroughly, and allow them to air dry.
Proper storage
Proper storage prevents unnecessary wear and tear on your pads. Here's how to store them effectively:
Keep them dry: Ensure your pads are completely dry before storing them to prevent mold and mildew growth.
Avoid sunlight: Direct sunlight can fade colors and weaken fabrics. Store your pads in a cool, dry place away from sunlight exposure.
Use ventilated bags: Store your pads in ventilated bags to allow air circulation and prevent odors.
Inspect and replace
Regularly inspect your pads for signs of wear and tear, such as frayed straps, damaged padding, or loose stitching. If you notice any issues, it's crucial to replace them to maintain optimal protection.
By following these simple yet effective steps, you'll maximize the lifespan of your skateboard pads and ensure they provide the best protection during your skateboarding adventures. Properly adjusted, clean, and well-maintained pads are your trusted companions in safety and style.
Conclusion
Ultimately, your skateboarding journey is a fusion of skill and safety. Prioritize both by nurturing your pads. In every ollie and grind, they stand as your loyal companions. So, remember: secure straps, cleanliness, and diligent storage are your allies. Embrace these practices, and you're geared for a seamless ride, backed by reliable protection, session after session.